Most fishermen can agree that probably one of the most exciting things on the water is "sight casting" to fish that you spot. You would normally associate this with day time, shallow water flats with the sun above your head. Some bridge locations will provide the opposite; sight casting to fish under the lights in total darkness! I'm used to going for "schoolie stripers" in Virginia when the bridge lights are shining on the water. This trip was a new experience for me, BULL REDS under the lights in Florida...Yeah Buddy!
Marty Mood
and I launched to picture perfect conditions. Brandon Barton was already out and getting on fish. After 5 minutes of tossing a weightless 6" jerkshad, I got to yell, "FISH ON!" I knew it was a good fish the minute my drag started screaming! Not long after, I had a 37" bull red in my lap.
That fish set the tone for the rest of the night. The action was fast and furious! What worked on this night were big soft plastics, both weightless for fish that you could see, and on a heavy jig for fish that were suspended. I'm just going to stick to the highlights on this one. The best one of the night for me was watching a 36" fish rise out of the depths like a log. I made a long but perfect cast out in front and a little past him. After a few twitches of my big Z-Man's jerkshad, the fish gives chase. This fish blew up on this like a bomb going off. Another mid 30"s bull red in the yak.
Another high point was hooking up a double with Marty 5 feet away from me. We had a big school come through that was really aggressive. My bull red gives me a sleigh ride right in front of Marty's boat. That could have gotten ugly in a hurry! Laughs and screamin' drags turn into, "Hell Yeahs!" Thank God I always bring my
YakAttack Panfish Portrait
.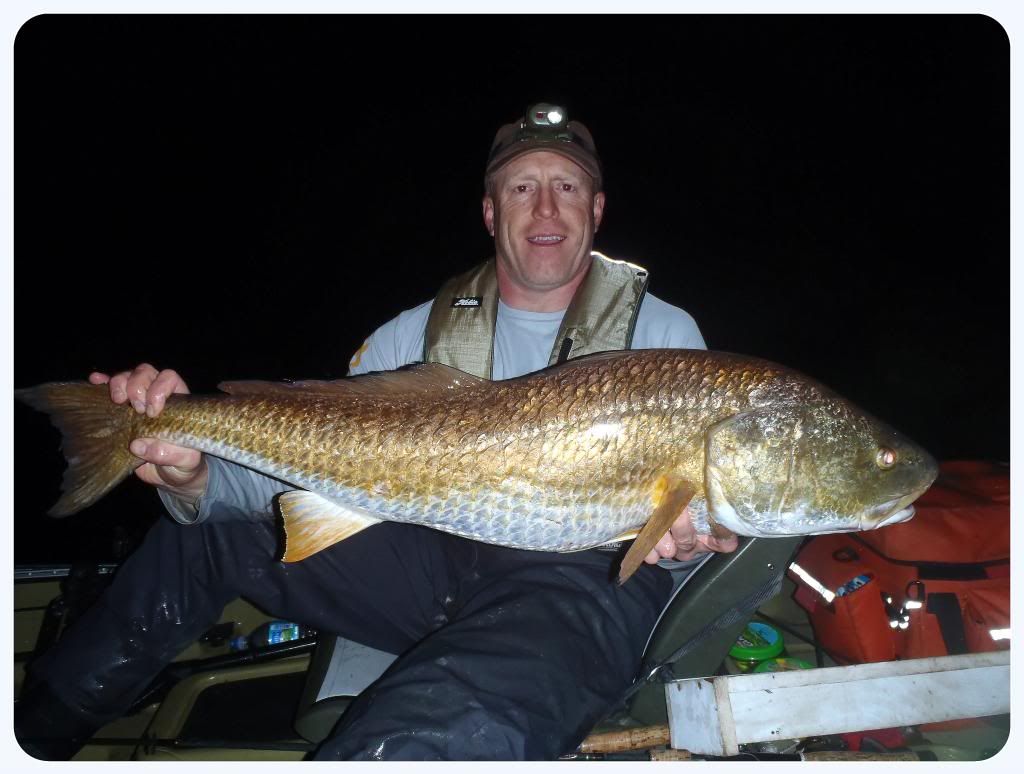 We ended the night both with double digits catches. Marty caught 17 and I caught at least 10, all between 32" and 41". I think this night was just meant to be. Great weather with even better fishing, and to top it off was being able to share it with a great friend. I know one thing is for certain, it will hard to top the "Red" Light District when it comes to bridge light fishing! One can only hope...
~See ya on the Water!